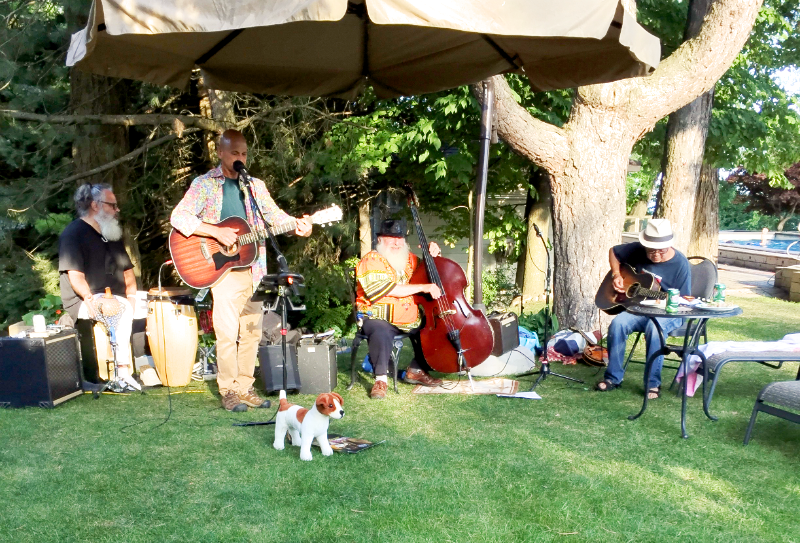 How a 'yes, and...' mindset made us the heroes at a private concert. 
My band was hired to provide the entertainment at a birthday party. Yes, we were all double vaxxed and yes, it was outside, and yes, we maintained social distancing... but those aren't the 'yesses' that made us heroes. 
We kicked off the evening with a solid first set -- all songs we know that people love even if they hadn't heard them before, (including a few of my originals). 
The second set was planned out too, and I have to confess, I was really looking forward to it. You see, the lockdown of the past year and a half had turned into one of the most creatively inspired periods of my life. I used the time to write a number of songs, (good ones!), and I improved my guitar playing a lot! 
Just as we were getting ready to start it up again, one of the guests came up to us with his own guitar and asked to sit in. Not wanting to be rude, we said, of course.' I figured it wouldn't be too difficult to shuffle the setlist around a bit, and I'd get to the songs I wanted to showcase later. 
The guest was actually very good and the other guests really seemed to enjoy it, so when were done that song and he asked to stay for another song, we said, 'sure.' 
In my mind, I was frantically reshuffling the setlist so we could get to the songs I really, really wanted to sing. But, the next song with the guest turned into another, and another, and another... for the rest of the evening. 
At the end of the evening, the comments and the smiles on everyone's faces told me that the party was a big sucess, at least in part because of us. A teenager even walked up to me and said, 'you play and sing really great!' (Imagine that, a teenager thinks I'm cool?!) 
I could have been rigid and tried to impose my own agenda, you see, but instead, I went with the flow; happily accepted what was being offered, focused on making everyone else look good, and never forgot that the number one objective was to give the audience a good time! (Duh, it's not about me!) 
This was Improv 101 in practice and in action. 
And perhaps the best part of it was I had a great story to tell in the 'Improv for Speakers' workshop that I was facilitating on the following Monday. 
Perfect. 

-- Michel (aka Jacques Russell Trio)